CERTYFICATE CONFIRMED
BY CHIEF PHARMACEUTICAL INSPECTOR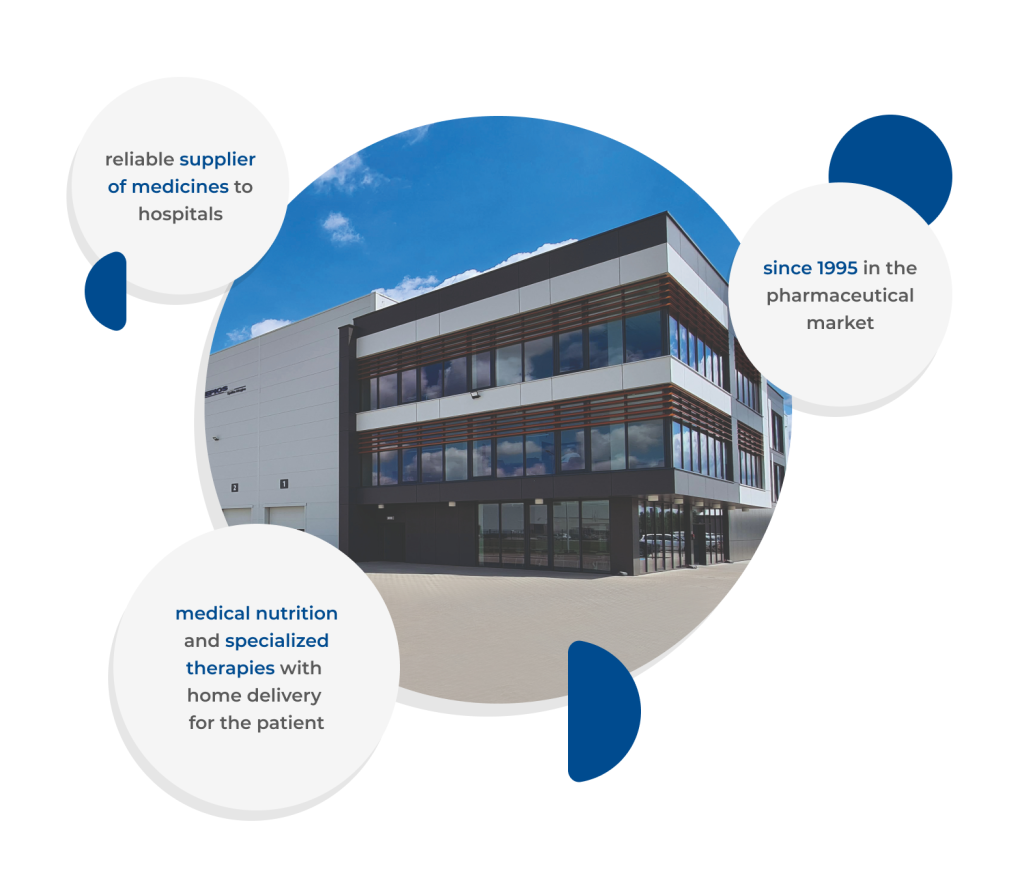 Asclepios Pharmaceutical Wholesale is a joint-stock company that has been in business since 1995. Since 2008, Asclepios has been owned by the Ortie Investment Fund.
Asclepios is a company with a modern management structure.  For many years, it has maintained its position as one of the largest suppliers of medicinal products to public entities in the medical market. At the same time, it is developing its range of warehousing and logistics services for products from this market.
The company's logistics system is mainly based on a modern pharmaceuticals warehouse in Sieradz, an extensive nationwide transport network and transhipment points throughout Poland.
The company is currently working with more than 500 hospitals in Poland, taking part in an increasing number of tender procedures. The company's partners are the largest suppliers in the medical market, so Asclepios has most of the inpatient drugs available in Poland. It also self-imports hospital medicines.
28 years on the medical market
Coperation with 550 hospitals in Poland
The company's board consists of: Tomasz Jóźwik, President of the Management Board and Artur Rzegocki, Member of the Management Board.
By outsourcing some services to external partners, the main focus of the company's management has been on the commercial divisions.
This has resulted in a client-oriented structure, where people from different functional departments are dedicated to the same client and coordinated by a regional director. This structure allows for the inclusion of the end customer and offers the supplier-manufacturer the added value of such cooperation.


The company currently employs over 130 people.
Although Asclepios is not a public company, it is a transparent company, subject to audits and monitoring by major pharmaceutical manufacturers. The company's strengths are: its ability to make quick commercial decisions, its rapid response to customer needs, its attention to patient safety and its state-of-the-art logistics solutions.
Artur Rzegocki tel. 601665928
Paweł Iwaszczuk tel. 727670503
Łukasz Golec tel. 512247114
Jacek Szulc tel. 606746007
Sara Szmajdzińska  tel. 507804806
Edyta Lizut tel. 571445090
Adam Czech tel. 602335808
Michał Frytko tel. 727670568
Kamil Jadam tel. 571445091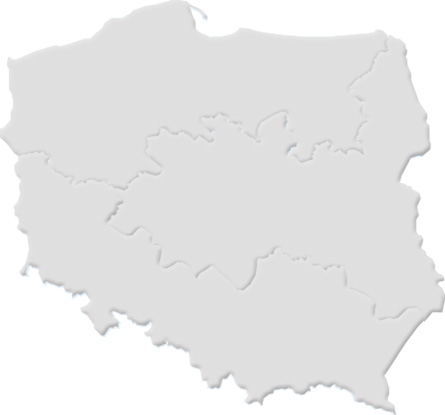 Our partners include the world's largest pharmaceutical companies and leading Polish drug manufacturers. We have around 10,000 stock items in our range. As a result, we offer a comprehensive supply of medicines, essential for inpatient treatment. We have formulations from the following groups:
general medicines
antibiotics
cytostatics
blood-based products and blood substitutes
IV fluids
disinfectants
food
contrasts
vaccines
disinfectants
dressings + equipment
We guarantee reliable sales service
Benefits for our customers
QUICK RESPONSE OF COMPLAINTS
fast and reliable sales service
Full range of hospital drugs at Competitive prices
Modern logistic solutions
In the first quarter of 2020, Asclepios opened logistic center. Located in Sieradz, in the centre of Poland, it ensures maximum efficiency in the supply chain and easy communication with the rest of the country. The warehouse, which has a volume of 132,000 cubic metres and a floor area of 8,800 square metres, with a height of 15 metres, allows the storage of up to 15,000 full-size pallets. It was constructed in prestressed concrete technology to a higher standard with high-quality materials and finished to the highest pharmaceutical standard.
As part of its services, Asclepios offers a comprehensive organisation of the space including the purchase of customised equipment and the preparation of documentation for the Chief Pharmaceutical Inspector. Within the warehouse buildings, it is possible to separate space for specialised purposes (e.g. the possibility of cold storage) and to lease space to other companies.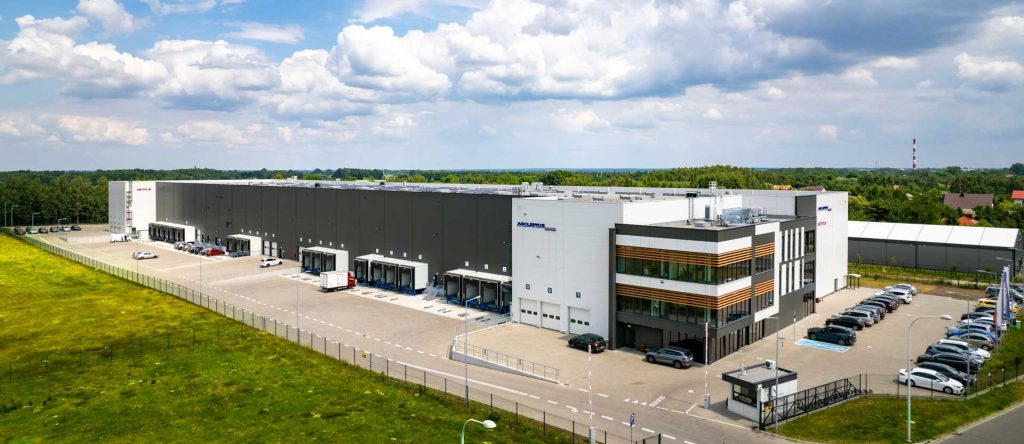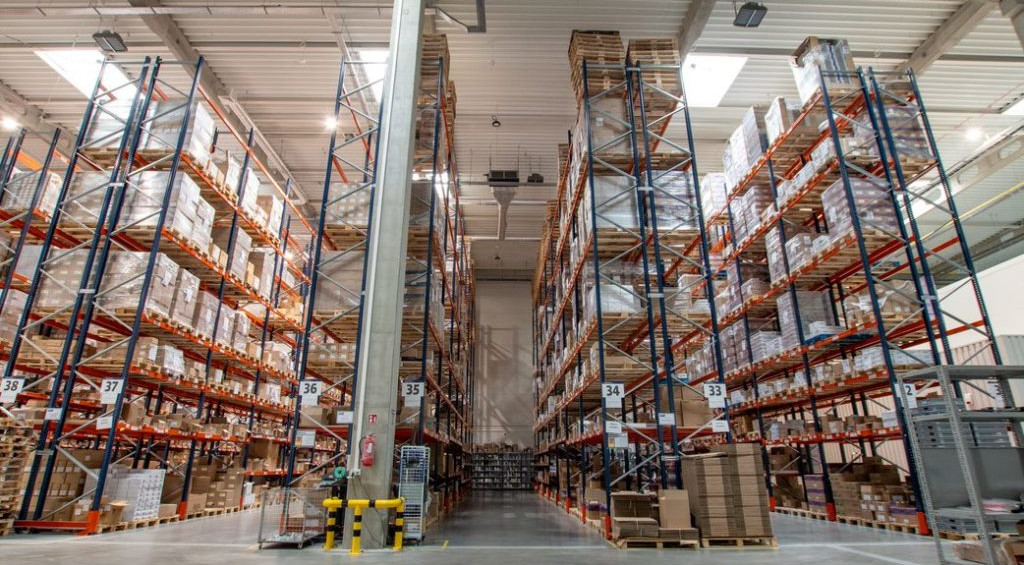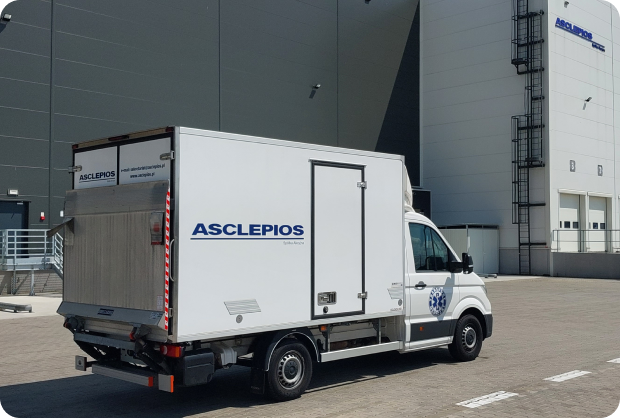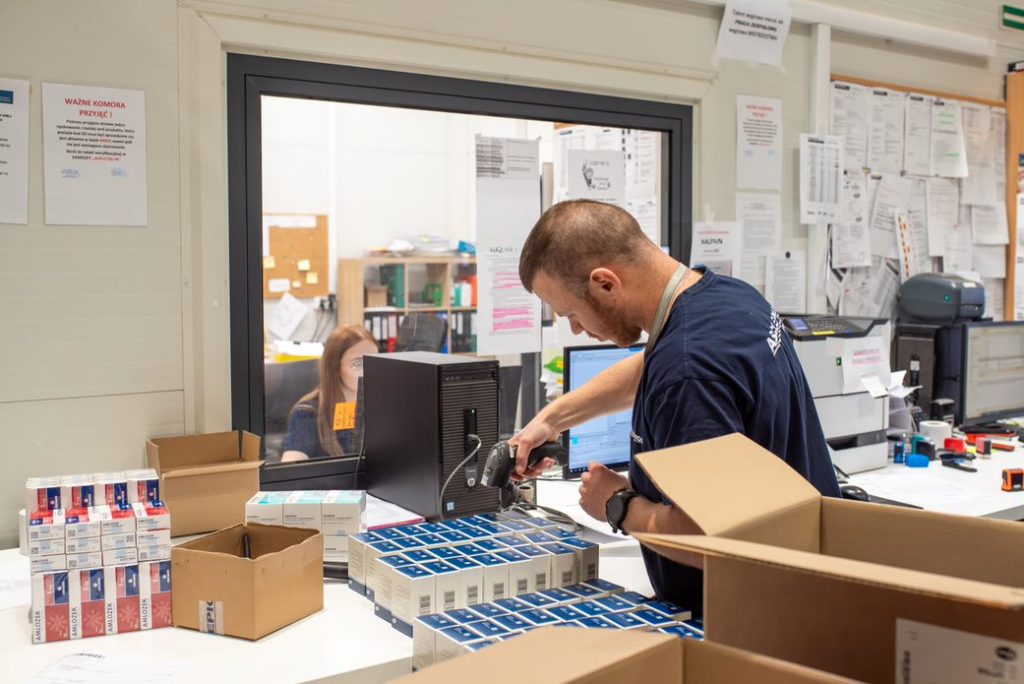 Fast and secure logistics service
Making deliveries within 24 hours to all hospitals. The consignments being transported are properly marked and protected against contamination, damage and theft, as well as against the damaging effects of too high or too low temperature, light, humidity and other adverse factors. Medicinal products requiring lower temperatures are transported in vehicles fitted with refrigeration equipment providing a temperature between 2-8°C or in special transport containers.
The entire process of selling and supplying medicinal products is subject to meticulous scrutiny. Documentation of medicines and their batch numbers in conjunction with recipients and time of delivery enable the efficient withholding or withdrawal of medicinal product from the market and hospital pharmacies.
This has recently been confirmed by a DPD certificate of conformity issued by the Chief Pharmaceutical Inspector. The DPD certificate provides a guarantee of the safety that a pharmaceutical wholesaler provides at every stage of the procurement, storage, sale and transport of medicinal products.
Opportunities for cooperation between a pharmaceutical wholesaler and a hospital do not exhaust compliance with Good Distribution Practice quality standards.
Mutual dialogue enables the organisation of deliveries so that stocks and storage costs fall. The right quality of the transport itself influences the quality and efficacy of the medicine, and proper logistics facilitates the organisation of medicine management and reduces its costs as a result.
We guarantee reliable sales service
Benefits for manufacturers of medicines
help of sales
representatives
market recognition and
market analysi
support of our sales
representatives assigned
to a given producers
Thanks to our activity on international markets, since 2019 we have imported over 1 million packages of medicines, the lack of which affected Polish patients. The offer of imported drugs is adapted to current market shortages and the needs of Polish hospitals monitored by the Ministry of Health. Among the active substances, the limited availability of which particularly affected Polish hospitals, there were basic antibiotics, such as: piperacillin with tazobactam or amoxicillin + clavulanic acid (particularly desirable during a pandemic) as well as: dobutamine, thiopental, injection vitamins, streptomycin, calcium gluconate and cytostatic drugs such as thalidomide or cytarabine, the shortage of which surprised the hospital market. Our company currently offers, at competitive market prices, its portfolio of import drugs, for which we have obtained appropriate approvals from the Ministry of Health.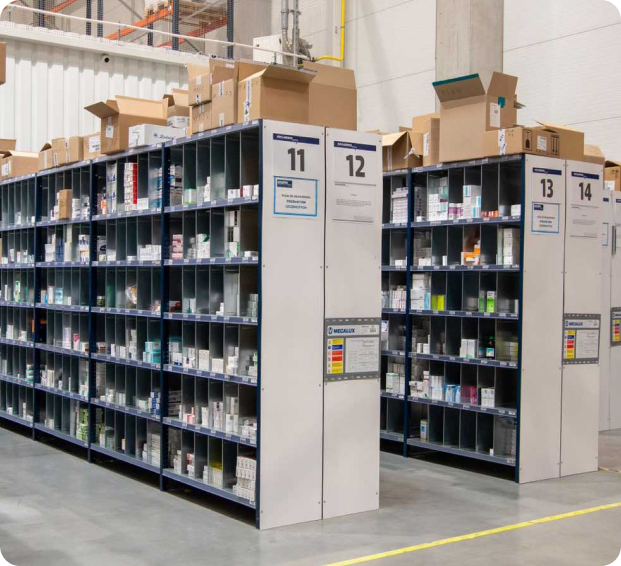 streptomycyna
abciximab
fludarabina
thiamina
vinblastyna
bupivacaina z epinephryna
cefoperazon z sulbactamem
ampicylina z sulbactamem
Execution by ASCLEPIOS S.A. of an order for delivery of medicinal products placed by an authorised entity conducting retail (wholesale) trade in medicinal products depends on providing the company with necessary documents confirming the possibility of purchasing the ordered products by the entity and making a prepayment equal to the value of the delivery in the form of a transfer to the bank account of ASCLEPIOS S.A. . Once the funds have been credited to the bank account, the order is processed.
In the course of bilateral arrangements, ASCLEPIOS S.A. may agree with an authorised entity conducting retail (wholesale) trade in medicinal products different principles of payment for ordered medicinal products than those indicated in the preceding sentence, if this entity (buyer) secures payment of the price for delivered products in another manner, previously accepted by ASCLEPIOS S.A.